Our Services
Restaurant
At Oceans on the Ridge you'll enjoy the best in authentic Jamaican cuisine while enjoying the Ocean breeze. Come join us for Breakfast, lunch or dinner.
Catering is available for parties of 10 or greater.
Serving high quality meals, premium assorted liquor, and frozen cocktails.
Lunch, Dinner and Drink Menus
(Download or view as PDF)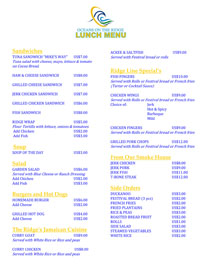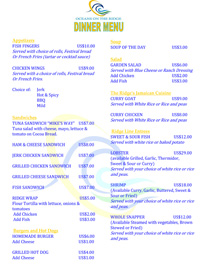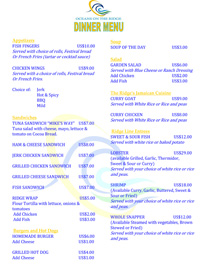 Weddings
Ocho Rios, Jamaica is a beautiful place to start you journey as a newlywed couple. With over 5 acres of land, and amazing scenery, Oceans on the Ridge is a great place to celebrate your wedding. We can accommodate your every need to make your special day, the most memorable experience, for you and all of your guests.
Live Entertainment
Oceans on the Ridge is a great venue for performers and live entertainment, our local bands play the best in Calypso and Reggae music.
Island tours
Come join us for our island tours. Whether with a group of people or a private tour, our local tour guides will take you to Jamaica's most well known hot spots.
Please contact us for more details.
And other types of social engagements
Please contact us for more information!